Tip line to report Underage Drinking and Driving While Intoxicated complaints. This line is for Franklin County, feel free to call, give your name or report anonymously, drunk drivers and underage drinking parties. The Tip Line will take all information and notify the appropriate law enforcement agency. This program is supported in conjuction with the Franklin County Underage Drinking Prevention Task Force, Franklin County Stop DWI and North Star Prevention Programs.
NYS Crime Victims Board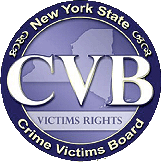 The New York State Crime Victims Board provides financial assistance to eligible innocent victims of crime.
The New York State Crime Victims Board was created under Article 22 of the Executive Law to compensate innocent victims of crime for unreimbursed out of pocket expenses.
Since its establishment on August 1, 1966, the Board has provided substantial financial relief to victims of crime and their families by paying unreimbursed crime-related expenses, including medical and funeral expenses, loss of earnings or support, counseling, crime scene clean-up expenses, the cost to repair or replace items of essential personal property, reasonable court transportation expenses, and the cost of residing at or utilizing the services of a domestic violence shelter.
If you are an innocent victim of a crime within New York State you may be eligible to receive benefits. Click this link to find out more:New York State Office of Victim Services
---